Advocacy
NEO acknowledges its responsibility as a real estate developer to operate buildings that protect the health and safety of its occupants and decrease harmful climate impact. We advocate for a built environment that addresses the issues within health, well-being and quality of life. With this advocacy, we hope to achieve a safe, healthy community and environment within our portfolio and beyond as we hope to inspire others in the industry to likewise contribute to sustainability.

The advocacy for a sustainable built environment is upheld through our approach to ESG, represented in the NEO Sustainability Framework which encompasses five key focus areas: Health, Safety and Wellbeing, Climate Action, Resource Efficiency, Infrastructure Resilience, and Governance. These focus areas are all interlinked within the three sustainability pillars of Social, Economic and Environmental, to reflect our ESG efforts and priorities in alignment with our business objectives and responsibilities.

Of all of these, the most significant effort is NEO's commitment to green net zero buildings, which we believe is the real estate industry's best pathway in both carbon reduction and meeting the UN SDG 11: Sustainable Cities and Communities.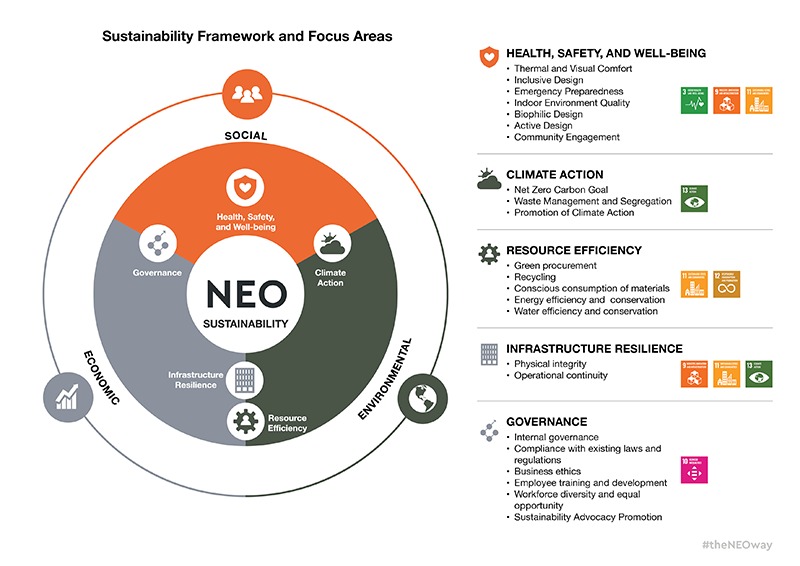 NEO is at the forefront of green and sustainable real estate in the country. We are the first and only local real estate company to not only make public commitments for both green building and net zero for 100% of its project portfolio, but also achieve them in 2021 – four years ahead of our original target schedule of 2025. We were also the first real estate company to shift its entire energy consumption to renewable energy back in 2013 when the regulatory environment allowed direct purchase contracts with power producers. In an industry that is very conservative, NEO was an early first-mover and risk-taker in these two instrumental movements to hasten and inspire market transformation.

NEO has championed the importance of third-party building certifications and ratings to combat greenwashing and substantiate sustainability performance. NEO was the first portfolio in the world to achieve the International Finance Corporation's EDGE Zero Carbon certification and similarly the first in Southeast Asia to attain the WELL Health-Safety Rating. Six/NEO was the pilot project for the Philippine Green Building Council's BERDE for Design and New Construction, while Five/NEO recently received their Health and Wellbeing certification. One/NEO, Four/NEO and Six/NEO were also the pilot projects for the organization's Advancing Net Zero Philippines (ANZ/PH) program. All buildings of the NEO portfolio proceeded to become 5 Stars BERDE and ANZ/PH certified.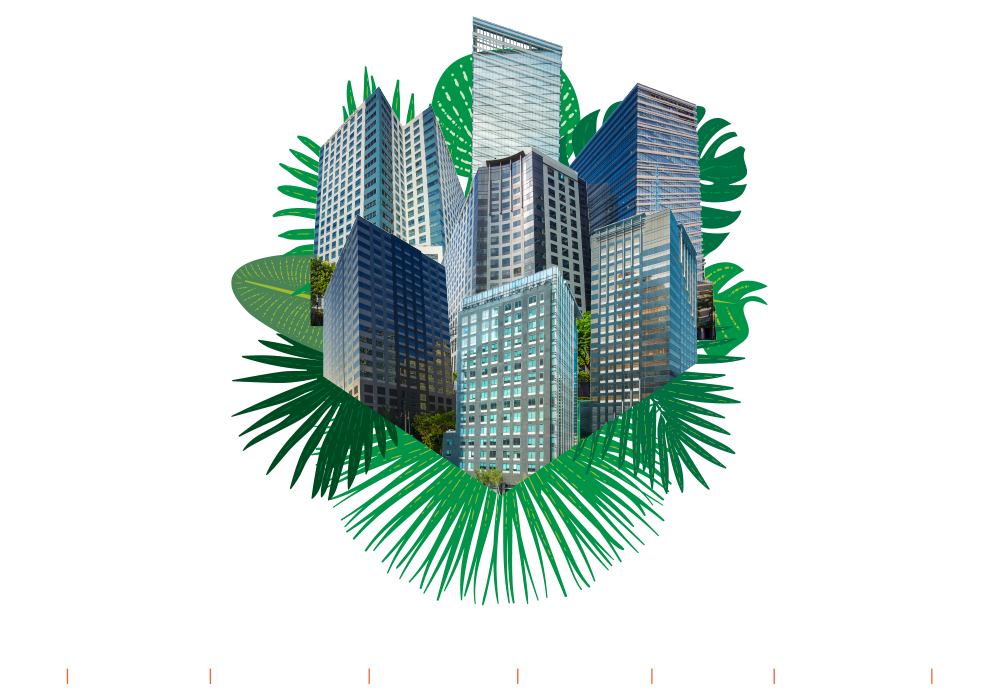 2013
NEO is first real estate owner to contract renewable energy for office buildings
100
%
Renewable energy source for all buildings of the portfolio
2021
NEO achieves Net Zero Operational Carbon Goal, 4 years ahead of its original 2025 goal
Memberships
Partnership and collaboration have allowed us to grow and be involved in more opportunities for advancing sustainability. As the only diamond sustaining member of the Philippine Green Building Council, we have been able to contribute to setting the Philippine standard for green buildings with the NEO buildings as pilot projects under the organization's BERDE green building rating system. With the priority to create a positive social impact in the local setting, we are also a proud member of the Philippine Business for Social Progress for poverty reduction. Memberships in the GRESB, Urban Land Institute, and ARISE global network has allowed us to further our sustainability initiatives and efforts across local and global communities.